One day you get a call that your position is no longer required, but what does that even mean? Employers do have a lot of flexibility and freedom to make staffing decisions that best fit their business needs. Additionally, there are few laws in effect that protect employees who may miss a lot of work due to a disability. 
If you missed work or feel that your employer terminated you because of your disability, then you need an attorney. Now, if you were submitting an application for SSDI, then you might want to explore the option of including an SSDI attorney. 
What Does "At-Will" Employment Mean?
While Wisconsin is an "at-will" state, there are wrongful termination laws that direct employers to how they may or may not let someone go. At-will generally means that employers and employees both have the freedom to part ways for any reason at all, at any time. Unlike contracted employees, there are obligated to meet the terms of their contract, a "normal" employee can quit at any time without any repercussion. 
The restrictions that come with at-will employment mostly revolve around disability, discrimination, and equal opportunity rights. For example, if the employer fires someone for missing a lot of time from work, that's reasonable. But, if that employee had notified the employer that she was pregnant, and she was missing work for doctor's appointments that would violate the FMLA and be wrongful.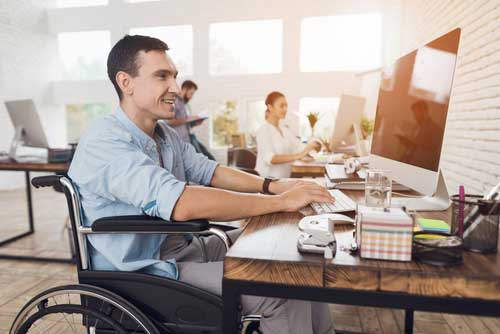 What If You Could Return to Light duty?
If an employer fires you and you suspect it's because of a disability, you may not want to attempt to return on light-duty. They clearly don't have anyone's best interest at heart and don't understand the protection that comes with some disabilities. If you were able to maintain your position with only reasonable accommodations, then there should not have been termination. 
Now, if you were out for some time, there's only a two-week window under the FMLA that allows you to have full protection. After that, an employer may need to fill your position immediately, and any leave of absence agreement would be between you and them. When it comes to light-duty work, your doctor should give a detailed outline of what you can or cannot do. If your employer cannot meet those requirements, then they may not allow you to return to light duty. The opportunity to return to light duty must be reasonable for an employer too. For example, if you worked in a restaurant as a server and the doctor requested that you remain seated at work, it wouldn't be reasonable to return yet.
Did Your Employer Cite Your Disability as the Cause for Termination?
While hardly any employer would ever write "disabled" across the cause for termination line on release papers, there are other terms that appear. One recent example covered extensively by a Human Resources publication, SHRM, Wisconsin Bell was brought to court after terminating an employee. The cause of termination was related to behavior caused by their disability. 
To give some context, the employee is bipolar. He had numerous notes from a psychiatrist confirming his mental health condition on file, and those notes explained the extent of his condition. He then stopped taking calls (in a call center) and accidentally messaged his manager instead of the concerned coworker. He did acknowledge within their system that it was a health concern, and the manager ultimately fired him for sending a personal message while on a "health concern." 
Ultimately, the employer was found in the wrong because the activity was in direct connection to his disability. Not every case unfolds this way, but it's very possible that your disability could have a greater connection to your termination than initially believed. 
Contact a Disability Lawyers in Milwaukee for Help
 The nuances of what employers can or can't do and what they should or shouldn't do are very different things. The result is that injured or disabled people are often left confused and upset that they lost their job while on disability or pursuing disability. If you lost your job, then it may make your SSDI application that much more important for your family. 
At Tabak Law, our Milwaukee office is available to the people that need it most. We work with people in need to help ensure that your application is complete and correct, but also to help you follow up on appeals too. If you have questions concerning, directly or indirectly, Social Security Disability, then you should contact the Tabak Law office now.