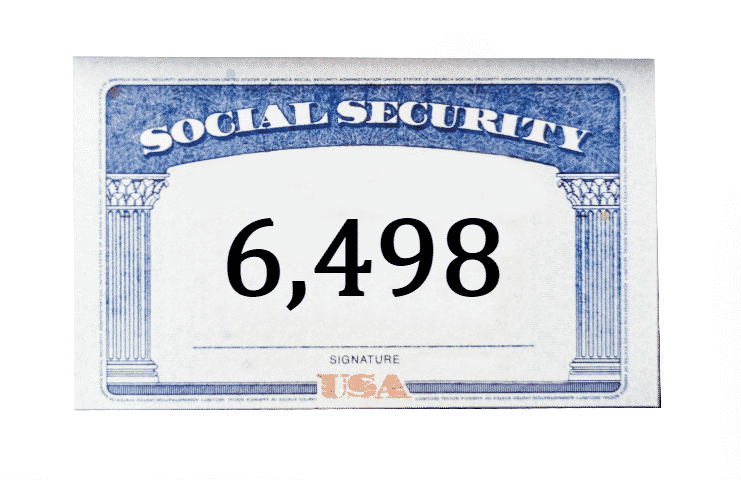 Tabak Law prides itself on working for our clients to the best of our ability. Due to our years of experience and skill, we have helped literally thousands of individuals receive the social security disabily, workers' compensation and veterans benefits they deserve. For social security alone, we have secured benefits for 6,498 individuals and counting since 2011. Check out a few of our many positive reviews below – and click on the link at the bottom to read through or add your own Google review.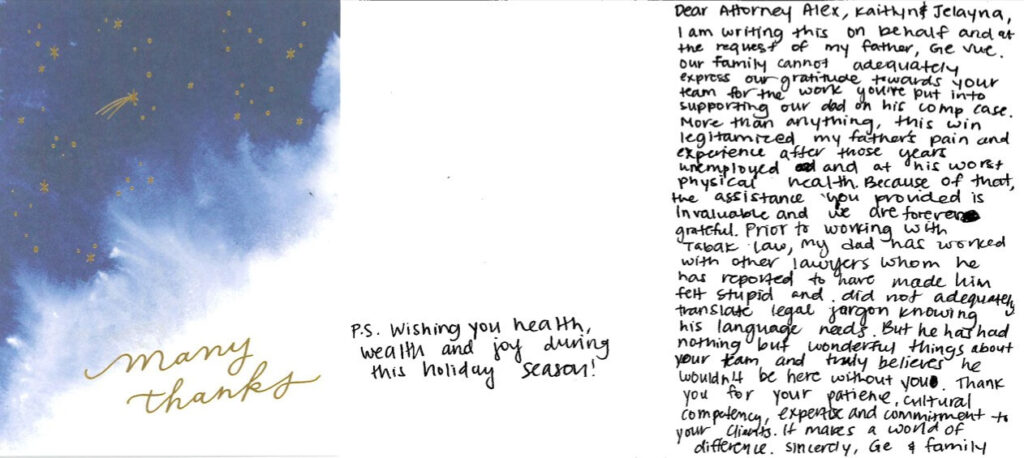 Dear Attorney Alex, Kaitlyn, and Jelayna,
I am writing this on behalf and at the request of my father. Our family cannot adequately express our gratitude towards your team for the work you've put into supporting our dad on his comp case. More than anything, this win legitimized my father's pain and experience after those years unemployed and at his worst physical health. Because of that, the assistance you provided is invaluable and we are forever grateful. Prior to working with Tabak Law, my dad has worked with other lawyers whom he has reported to have made him feel stupid and not adequately translate legal jargon knowing his language needs. But he has had nothing but wonderful things about your team and truly believes he wouldn't be here without you. Thank you for your patience, cultural competency, expertise and commitment to your clients. It makes a world of difference. 
Sincerely, Ge & Family
---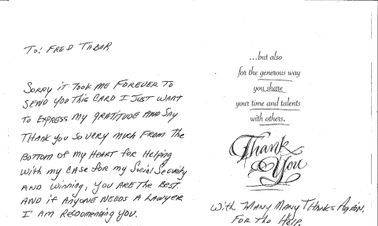 "Sorry it took me forever to send you the card I just want to express my gratitude and say thank you so very much from the bottom of my heart for helping with my case for my social security and winning, you are the best and if anyone needs a lawyer I am recommending you."
-With many many thanks again.
---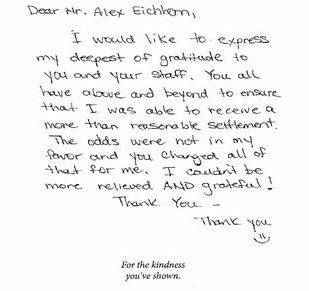 Dear Mr. Alex Eichhorn,
I would like to express my deepest of gratitude to you and your staff. You all went above and beyond to ensure that I was able to receive a more than reasonable settlement. The odds were not in my favor and you changed all of that for me. I couldn't be more relieved AND grateful! Thank you.
-Sincerely,
Kim
---
I had the pleasure of working with Attorney Alex and his assistant Emily who were both great! I honestly felt that they cared about me and my family. When I first called Tabak I was not sure if I was eligible to get anything else from my work comp claim since the claim was already conceeded. However, Attorney Alex informed me that because it was a back injury that the insurance company owed my money for a loss of earning claim. He got me what I deserved and his law firm was able to help me with my disability claim and get that approved right away. Tabak Law has honestly changed my life.
– Alvin Y.
---
I tried to apply for disability myself online but found it a bit intimidating. I contacted Tabak via email and they got back to me the same day to get my claim moving stared. My first check was just put in my account last week. Thanks again.
---
Alex and his entire team treated me and my son like family. I had a prior lawyer who had my case for close to 6 years and nothing got done. From the time that I got ahold of Alex he got his entire team involved and things changed from there. Sarah is a wonderful paralegal and answered all my questions in a timely manner and kept me well informed about how the case was going. I have and I will recommend Alex and his entire staff to anyone and everyone.
-Greg J.
---
Tabak handled my disability claim and got my case approved. It did take a long time but at least I was able to get in touch with Carolyn the paralegal when I needed to.
---
I filed for my disability ..I am currently being helped by Kristen ..and I feel she has been completely honest and so helpful through my whole ordeal ..I want everyone to know I am so happybwith Tabak law ..and I've been going through a lot ..I've called her while in pain .raised voice ,apologized ..and she is continually easing my mind ..thank you Kristen..sincerely from my heart ..Thank you
---
They made the process fast and fairly straightforward. I was a lucky one and was approved prior to having to go to a hearing, overall I was quite impressed with how the law firm kept me updated.
---
Law firm was amazing. Its been 2 years and 4 months since my husband applied for disability. 2 denials we had to go to hearing. Just had his hearing today and was deamed disabled and unfit for work. Kyle the attorney that came to the hearing with us was awesome courteous and very clear about things. Victoria was awesome.
– Rudy R.
---
I had a really great experience. They kept me informed of what was going on. Ben represented me in court. Would recommend them to anyone with a disability case. I can't thank them enough.
– Jennifer K.
---
Check out our many positive reviews on Google (link below) or on our Facebook page. If you are one of the thousands that Tabak Law has helped get the benefits they deserve please consider leaving a brief review.