Here at Tabak Law, the 4th of July is a big deal. It's a time for us to celebrate the great freedoms we have in this country – which are brought to us by the Veterans we are so proud to fight for every day.
If you are a veteran, or know of a veteran who is struggling with benefits, please don't hesitate to call us at 844-432-0114 or visit our Veterans pages. We offer free consultations and there is no obligation whatsoever for the information.
As we all look to celebrate America's Independence, let's look at where the 2018 4th of July fireworks and parades are around Milwaukee WI – our home office. We hope to see you out and about around the 4th!
Fireworks and Parades in Milwaukee County for 2018
Bayside
Bayside will be holding its annual 4th of July parade on the 4th, starting at 9 a.m. starting from the middle school. Festivities will continue with a dog costume contest in Ellsworth Park afterward.
Brown Deer
A full day of festivities will take place – the Brown Deer Blast – on the 4th. The parade will start at 1:30 at the elementary school. Fireworks will finish up the festivities for the day at 9:30 p.m.
Cudahy
The Cudahy parade will take place at noon at Grange and Packard Ave, ending at Sheridan Park. The day will consist of cheer and dance performance, food and more. Fireworks will culminate the activities at approximately 9:20 p.m.
Franklin
Franklin's multiple day celebration starts on July 2 and goes through the 4th. On the 4th itself, there will be kid's bike and wagon decorating and much more. The parade starts at West Loomis Road and Forest Hill Ave. at 11 a.m. A fireworks display on the 4th will take place at 9:30 p.m.
Glendale
A children's parade kicks things off at 10 a.m. with the main parade following at 10:30. The Glendale Fourth of July Festival will include food, bingo, bounce house, a crawl maze and a children's talent show. Fireworks start up at dusk.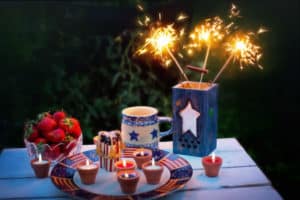 Greendale
There is a five-day festival in Greendale that includes rides, games, live music, food and more. The festival runs from July 3-5. On the fourth, there is a parade at 10 a.m. and fireworks at dusk.
Greenfield
The Greenfield parade starts at 12:15 p.m. starting on South 68th Street and West Layton Ave. A full day of events includes a bike decorating contest, music from the University of Wisconsin Marching Band, Liquid Crush and The Cheap Shots. There will also be a kid zone and Mini MIss, Little Miss and Junior MIss Greenfield pageants. Fireworks will wrap things up at 9:45 p.m.
Hales Corners
The Firecracker 4 run;walk will start things out at 8 a.m. on July 4 at Hales Corners Park on New Berlin Road. There is a registration fee for the run – this starts at 6:45 a.m. The parade this year will begin at Janesville Road and 110th Street at 4 p.m. Fireworks will be held at dusk at Hales Corners Park.
Milwaukee
There are multiple locations within the Milwaukee city limits on the 4th of July. Some of the locations include:
-Alcott Park with activities and fireworks at 9:15 p.m.
-Enderis Playfield will have a parade at Mother of Good Counsel Church, as well as contest, games and more at 10 a.m. followed by other activities.
-Gordon Park will have a parade starting at 11 a.m. and kids activities from 12:30 to 4:30 p.m. Fireworks will happen at 9:15 p.m.
-Humboldt Park will have a parade at 9 a.m. and end with fireworks at 9:15 p.m.
-Jackson Park will have a parade procession beginning at 8:30 a.m. and fireworks that wills start at 9:15 p.m.
-M.L. King Center will host a talent contest starting at 11:30 a.m.
-Lake Park will have parades at Hartford University School and Maryland Avenue Montessory School at 9 a.m. Fireworks will begin at 9:15 p.m.
-Mitchell Park will have three parades, including National Avenue and Fourth Street, Mitchell and 23rd Streets and Scott and 30th Streets. Fireworks will start at 9:15 p.m.
-Noyes Park festivities include a parade at 9 a.m. and fireworks at 9:15 p.m.
-Sherman Park parade starts at St. Catherine's Church at 52nd and Center Streets starting at 9:30 a.m. A ceremony will begin at 11 a.m. with games to follow.
-Washington Park will have a flag raising ceremony at 11 a.m. with games following at 1 p.m. Fireworks start at 9:15 p.m.
-Wilson Park will have two parades starting from Harris Bank and Wilson Park Recreation. The Milwaukee Flyers will be in attendance for a tumbling performance at 10 a.m. followed by food and children's activities. Fireworks will begin at 9:15 p.m.
-Veterans Park will have fireworks on July 3 beginning at 9 p.m., with activities throughout the day as well.
-Lincoln Park will host fireworks at 9:15 p.m. at 1301 W. Hampton Ave.
Oak Creek
The parade begins at 9 a.m. at the corner of Groveland and Verdev Drives. Fireworks will kick off at dusk.
Shorewood
The 4th of July parade in Shorewood will start a 3 p.m., starting from Oakland Avenue and Kensington Boulevard. Entertainment and food will follow with fireworks set for 9:15 p.m.
South Milwaukee
Things will kick off at 10 a.m. in the Grant Park Picnic Area with a host of activities, including bike and costume parade, bounce house and more. Fireworks will be starting at 9:30 p.m.
St. Francis
Live music and a danceoff will take place at Milton Veterans Memorial Park. The parade will start at 10 a.m. on July 4. Fireworks will happen at 9:15 p.m.
Wauwatosa
The 9 a.m. parade has a theme of "A Very Tosa Fourth." Fireworks kick off at dusk at Hart Park on Chesnut St.
West Allis
The West Allis parade will be happening at 7 p.m. on July 2. Fireworks will happen at 9:30 p.m. on July 4th at the Milwaukee Mile at State Fair Park.This year's theme is "Independence Day the West Allis Way."
Whitefish Bay
Festivities in Whitefish Bay kick off at 11:30 a.m. with the Fourth of July parade at Kent Ave and Silver Spring Drive. Most activities will take place at Klode Park at 5900 N. Lake Drive. Fireworks will light up the sky starting at around 9:30 p.m.