With the month of July right around the corner, people are quickly making 4th of July plans. Typical traditions include grilling out, going to the beach, and of course, watching fireworks and parades.
At Tabak Law, we are excited for what the 4th brings in the Milwaukee area, as there are many events going on. We hope to see everyone out and about over the holiday week and weekend. To make things easy for you to plan, we've compiled a list of 2019 4th of July fireworks and parades in Milwaukee.
2019 4th of July Fireworks and Parades in Milwaukee
The Milwaukee 2019 fireworks display will happen on July 3 at Veteran's Park at 1010 N. Lincoln Memorial Drive. The 40-year tradition features a fabulous fireworks show over Lake Michigan that begins at dusk.
Alcott Park
Festivities at Alcott Park begin with a parade at 9:45 a.m., beginning at 3575 S. 88th St. and ending up at Alcott Park. There will be kids crafts, a balloon clown and a fireworks display at 9:15 p.m.
Enderis Playfield
Enderis Playfield at 2978 N. 72nd St. will feature a parade at 8:30 a.m. The procession begins at Mother of Good Counsel Church. A flag-raising ceremony will happen at 9:15 a.m. and there will be a trivia quick at 9:30. Additional activities will take place throughout the day.
Gordon Park
Gordon Park at 2828 N. Humboldt Blvd will host festivities starting at 11 a.m. with a parade from St. Mary's Casimir into the park. Roxie Beane and the Bratz MKE Dance Team will perform, in addition to other family-friendly activities throughout the day. A fireworks display will start at 9:15 p.m.
Humboldt Park
You can enjoy the fourth of July at Humboldt Park at 3000 S. Howell Ave with a parade, fireworks and more. The parade will begin at 9 a.m., beginning at South Kinnickinnic Ave and finish up at the park. A doughnut-eating contest, talent show and Kids from Wisconsin Concert will highlight the events. Fireworks will happen at 9:15 p.m.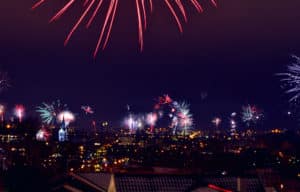 Jackson Park
Jackson Park at 3500 W. Forest Home Ave will kick off festivities with a parade at 8:30 a.m. starting at the St. Gregory parking lot. Children's and family games will happen from 9 to 11 a.m. and a fireworks display will take place at 9:15 p.m.
Lake Park
Lake Park at 3233 E. Kenwood Blvd will have two parades. The first will leave from Hartford University School and the other will leave from Maryland Avenue Montessory School – with each beginning at 9 a.m. A talent contest will begin after at 9:30, with other events to follow, and fireworks at 9:15.
Mitchell Park
There will be three school parades at Mitchell Park at 2600 W. Pierce St., beginning at 9 a.m. Games and a pie-eating contest will take place and there will be live music from 6 to 9 p.m. Fireworks will begin at 9:15.
Noyes Park
Noyes Park at 8235 W. Good Hope Road will begin festivities at 9 a.m. with a parade. It will begin at Dean Road at Service Drive and end at the park. Ice cream and games will take place from 10:15 to 11:45 a.m. Fireworks begin at 9:15.
Sherman Park
A Sherman Park parade will begin at 9:30 a.m. beginning at 52nd and center streets. There will be ice cream, a bicycle decorating contest and more at the park with games at 11:30 a.m.
Washington Park
Washington Park 4th of July festivities will begin with a flag-raising ceremony at the park at North 40th and West Galena Streets. Games and contests will take place throughout the day with fireworks at 9:15.
Wilson Park
Wilson Park festivities will begin at 9 a.m. with a parade, and ice cream following at 9:45 a.m. A DJ will be part of many park activities including arts, crafts and games. Fireworks will take place at 9:15.