Filter by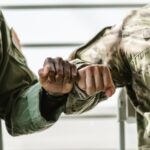 Veteran's Disability
What Could VA Benefits Look Like in 2023?
The current financial climate is chaotic and many veterans are concerned about the future of their VA benefits. Inflation has created an increase in the cost of living and veterans want to know – what could VA benefits look like in 2023? We are here to help at Tabak Law. Let's take a look at… Read more
Injured? Unable To Work? We Can Help!
CONTACT US TO ARRANGE A FREE CASE REVIEW WITH AN EXPERIENCED SOCIAL SECURITY DISABILITY LAWYER.