Tabak Law, a workers' compensation law firm located in Milwaukee, was recently selected as one of the top firms in its field. Expertise, a company focused on assisting individuals in finding the best local experts in a variety of fields, named the law firm one of the top workers' compensation firms in Milwaukee for 2020.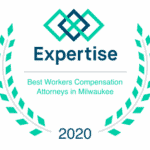 During the selection process, Expertise looked at 135 workers' compensation firms that serve Milwaukee and narrowed the field down to 18 that truly provide the best service for those in need. Tabak Law was one of the top selections by the prestigious selection company. 
During the selection process, Expertise looks at 25 variables across five categories to determine which law firms are truly the best in their area. These categories include reputation, credibility, experience, availability and professionalism. Each of the selection criteria is crucial for individuals who are looking to receive workers' compensation, as having lawyers that know how to deal with the situation, and deal with it quickly, can be the difference between receiving and not receiving compensation.
Tabak Law was a clear standout, as the firm has 45 years of experience in getting injured plaintiff's disability claims approved. The firm negotiates settlements for vocational rehabilitation, loss of earning capacity, medical costs and benefits for temporary wage loss and permanent disability. 
In addition to providing workers' compensation assistance, Tabak Law also specializes in social security disability and veteran's benefits. The law firm offers free case evaluations and can be reached by calling 844-432-0114 or by visiting www.tabakattorneys.com.