June 19 is a monumental holiday in the United States. Officially known as Juneteenth National Independence Day, the holiday celebrates the emancipation of individuals who had been enslaved in this country. Juneteenth is also often referred to as Freedom Day, Jubilee Day, Liberation Day, and Emancipation Day.
The date of June 19 recognizes the anniversary of June 19, 1865, when federal troops came to Texas to take control of the state to ensure and enforce the end of slavery. This action came more than two years after the signing of the Emancipation Proclamation.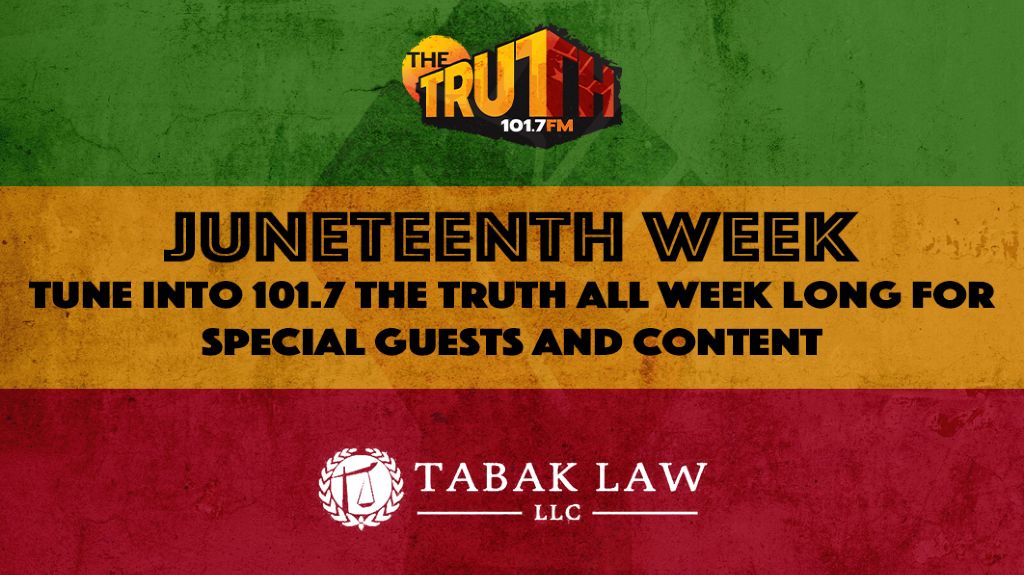 Due to its origin, the holiday was originally celebrated in Galveston, TX, but is now recognized throughout the United States.
Tabak Law is proud to partner with 101.7 The Truth to help sponsor important programming throughout the week as a Juneteenth Week celebration. The Truth radio station helps embrace and empower the black community in our home city of Milwaukee. We are pleased to help bring this important programming to the radio every day this week. Here is the current schedule:
Monday June 14
Jim Brzezinski, Tabak Law Partner
MKE in the Morning
Tuesday June 15th
MKE in the Morning
8:00 am
Keighton Klos
Executive Director
Milton House Museum
Tory Lowe Show
1:15 pm
Dr. Bert Davis and Dr. Robert Smith
America's Black Holocaust Museum
Wednesday June 16th
2:00 pm​
Dr. Kweku Ramel Smith
Thursday June 17th
Tony Kearney Sr.
Executive Director
Northcott Neighborhood House
Friday June 18th
Tentative – update soon