In the state of Wisconsin, you have a number of rights when you are hurt on the job. And if your injury requires you to miss work, you will want to know the facts about obtaining workers' compensation. For many individual, getting workers' comp is the defining factor to being able to maintain their livelihood.
To help you out, we've compiled the top things you need to know about workers' compensation in Wisconsin. But if you need further assistance, don't hesitate to get free advice from a professional at Tabak Law.
Can I choose my own doctor?
This is a big one to know. And the simple fact is, you have the right to choose your own doctor. If there is a dispute, your employer can have you evaluated at a doctor of their choice. But when you are injured, you have the right to see who you want to see.
How long do my benefits last?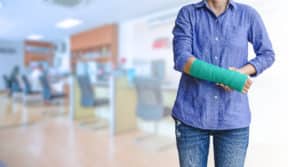 As long as your injury is keeping you out of work, you will receive benefits until you are cleared to return by your doctor. If you have permanent work restrictions, you could continue to receive benefits.
What happens if I can't return to work 100%?
This is known as a permanent restriction. If this is found to be the case from your doctor, you will receive benefits based on the amount of disability determined by your doctor.
What if I can never return to work?
If your injury is so severe that you are unable to ever return to work, you could be eligible for retraining benefits. This occurs if your employer can't take you back with your restrictions. You may also be eligible for loss of earning capacity claim.
Does the part of my body injured matter for benefits?
Yes, an injury to the torso that results in being unable to return to work may qualify you for loss of earning capacity benefits in addition to the permanent disability.
What is the pay available while I'm on workers' comp?
If you are approved, the amount you receive is ⅔ of your weekly gross pay, subject to the maximum rate for that year, in addition to all medical expenses.
Can my company fire me?
If there is a job available at the company that you are able to perform, they must offer it to you or risk a penalty of up to one year's wages. If a job does not exist, they are not required to take you back.
What if my work injury is the aggravation of a previous injury?
You may still be eligible for benefits in this scenario, as the employer hires you in your current health condition.
We realize there are many questions that come along with any work injury. The main thing to know is that you should get an attorney involved early on in the process. If you have additional questions that we haven't answered here, or you are looking for any kind of help in the process – or getting the process started – don't hesitate to contact us for free at 844-432-0114.