While no one intends to be injured on the job, it happens to thousands of people every day. There is an emotional aspect that immediately hits, as concerns about if you are going to be able to continue working and how to continue to pay your bills may come to the forefront.
One of the most important things to know is that documentation from the start will be key. And when dealing with a medical professional, you want to make sure everything lines up for the wellbeing of your case.
You may be assigned a doctor from your employer, which may not always be in your best interest. For this reason, it is important to get a lawyer involved early in the process. An experienced workers' compensation lawyer can deal with the paperwork, set you up with another expert, and navigate the process for you to ensure you have the best chance of ultimately winning your claim.
Avoid making the following common mistakes on your workers' compensation claim.
Common Mistakes with a Workers' Compensation Claim
Delaying Medical Treatment
Getting medical care right after a workplace accident takes place is very important. Some injuries may not be obvious right away, and you could put the claim into dispute if you didn't receive care right away. It could be argued that the injury happened at a later date, or you could have a health issue that should have been addressed sooner.
Missing Appointments
Missing required appointments about your injury could damage your worker's compensation claim as well. Missing your appointments gives the insurance company reason to question the severity of the injury. In addition, your doctor could lose faith in you as a patient, which could be damaging during the claim process as well.
Stopping Treatment Too Early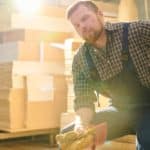 Returning to work before you are able or stopping any treatment that is in progress is a mistake. Some people may feel they need the money and will try to return to work, but this is only going to provide the insurance company with more doubt concerning the severity of the accident.
Changing or Creating Facts about the Accident
You never want to be untruthful about your accident, but you also don't want to fill in too many blanks that you aren't qualified to answer. The facts of the case exist no matter what you say about the incident, so just stick to the facts that you know. Trying to fill in blanks of unknown information could create the opportunity for inconsistencies that can raise red flags. You also want to avoid assumptions or detailed information that you are not qualified to provide in your position.
Changing Your Medical History
At times, people will falsify some of their medical history with their doctor or not disclose past injuries. This is a mistake, as the doctor needs to know this information to treat you properly, and the information will likely come out. Discovering an omission or lie can damage the case as it will cause you to lose credibility.
Not Keeping All Records
As mentioned above, keeping full records of your injury, doctor visits, and everything else involved is very important to your case. An attorney will need access to all the accurate information to help you with your situation.
If you need help with a workers' comp claim in Wisconsin, don't hesitate to call the professionals at Tabak Law at 844-432-0114 or fill out a form on this page.