Filter by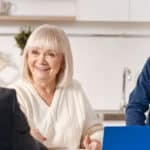 Social Security Disability
Can My Social Security Disability Benefits Be Taken Away?
As attorneys for social security benefits, we have seen several people who lose their social security disability benefits. There are usually two grounds for this termination; increased income and improved medical conditions. However, there's a whole lot more to the termination of social security benefits. This article outlines why the SSA can terminate your entitlements… Read more
Injured? Unable To Work? We Can Help!
CONTACT US TO ARRANGE A FREE CASE REVIEW WITH AN EXPERIENCED SOCIAL SECURITY DISABILITY LAWYER.